RIDER:
1. All payments shall be made by certified check, money order, cash or bank draft. No money can be deducted from the contract fee.
2. Neither PURCHASER nor audience has the right to record, transmit, or televise by any means or for any purposes the performances hereunder of any part thereof without permission from ARTIST.
3. In case of late arrival due to circumstances beyond the control of the ARTIST (weather, airline faults, traffic delays, etc.) PURCHASER must use every resource to see the concert does take place when the ARTIST arrives in the city of engagement. The concert cannot be canceled for the above reasons by the Purchaser without consent of the ARTIST.
4. The ARTIST reserves the right to cancel this contract in the event of an act of God, Government, restrictions or strikes.
5. The PURCHASER shall supply and pay for first class sound system plus professional engineer to run the sound system (reference Back Line and Line List below)
6. ARTIST has the exclusive right to sell and retain 100% of monies from merchandise such as CDs, Posters, T-Shirts, Videos, Photos, etc with own sales person if desired.
7. An adequately furnished dressing room shall be required for ARTISTS including chairs, towels, lavatory facilities, & sealed bottled water in dressing room & on stage.
8. PURCHASER to provide: Hot meal for each band member and road crew with meat and vegetarian options, or buy-out.
9. The PURCHASER to provide: Five Best Western (or similar) standard rooms (5 dbl) & ground transportation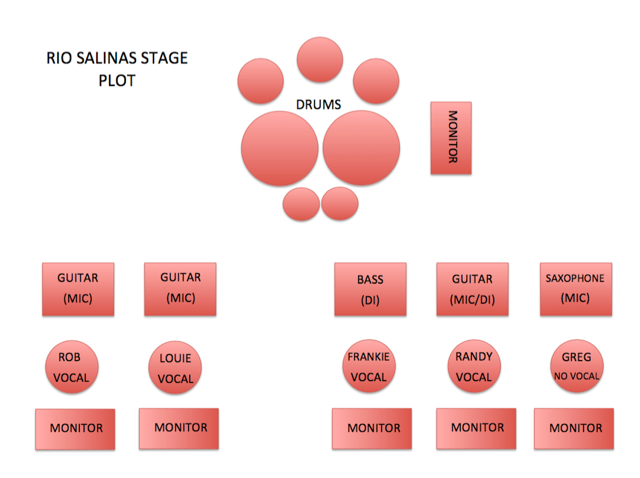 BACKLINE:
1. Fender Twin Reverb 65 reissue #1 (guitarist)  or equivalent
2. Fender Twin Reverb 65 reissue #2 (guitarist)  or equivalent
3. Fender Twin Reverb 65 Reissue #3 (guitarist) or equivalent
4. Four guitar stands (for 3 guitars and 1 bass)
5. Outdoors: Ampeg SVT tube bass amp with 8×10 cab – Indoors: Eden Head with 4X10 cab (if Eden not available SWR is OK)
6. Full Maple Professional Drum kit – DW, Pearl, or Yamaha preferred
7. 22″ kick with double bass pedal (Tama Iron Cobra double pedal preferred, DW 2nd choice),
8. 2 rack tom, 1 floor tom, hi-hat (Tama Iron Cobra preferred), snare, cymbals  (crash,  ride, splash, china type)
STAGE LIGHTING PLOT:
Save
Save
Save